Why Most People Will Suffer From Pain, Brain Fog, and Chronic Disease as They Age — and How to Beat Those Odds
Watch This Important Message From Ocean Robbins:
Registration opens twice per year.
Click the button below to be notified when we open the doors to registration next:
Read on to find out how WHOLE Life Club works so you can join in when your time comes.
Are you ready for it to be easy?
Instead of stressing when you are figuring out what's for dinner, what if you had a one-stop-shop for recipes you know will both taste delicious and do your body good?
Rather than being afraid of not getting the memo on some important health fact, what if you could rest easy because you heard it directly from a world renowned expert with decades of experience and thousands of success stories?
Most importantly, what if you felt totally confident knowing that you're taking excellent care of your day-to-day and long-term health?
Join WHOLE Life Club today and experience the freedom of effortless health. Say goodbye to confusion, frustration, and guilt, and hello to a vibrant, thriving life. With the right tools and support, you can make healthy living a reality. Are you ready to join us?
What do members have to say?
After joining WHOLE Life Club, many participants have adopted a whole foods, plant-centered dietary pattern. Their testimonials reflect their unique experiences. Your specific results will vary.
I can actually RUN for the first time in 20 years, and my body doesn't ache. Thank you, WHOLE Life Club!
I've been able to lose pounds safely; I've never been hungry. My body feels young and energetic again!
Since joining WHOLE Life Club I have been eating so many more healthy plant-based foods! Eating this way has helped me decrease pain, depression, acne, fatigue, & migraines. I am so happy I joined WLC. It's a life changer!
Since joining WHOLE Life Club, my health numbers have all improved. For the first time in 19 years, they are in the normal range. My blood pressure went from 152/80 to 109/70. My cholesterol went from a high of 245 to 174. And my blood glucose went from 103 to 94. As a result of participation in the WLC, I no longer have to take prescriptions for high blood pressure or cholesterol. My mind and body are also calmer. I'm feeling informed, supported, and encouraged. Thank you WLC for improving my life and health so much!
Joining WHOLE Life Club was one of the best investments I have ever made.
Millions of people are realizing that eating more plant-based and whole foods is the #1 thing we can do for
health

longevity

disease prevention and reversal

environmental benefits

and animal welfare.
But no matter how much you know...
It's what you DO that matters most.
Think about it for a minute. Your body doesn't care if you know what you "should" eat — but go for pizza or fries because you're tired and it's easy. Your body doesn't give you any points for good intentions if you're still eating foods that can leave you saddled with a chronic illness and a shortened lifespan.
And if you are eating the wrong foods that sabotage your health because you simply don't know any better?
You might be lucky to get a second chance. But it's going to be a lot easier if you find out before major damage is done.
WHOLE Life Club gives you the best of both worlds: scientifically research-backed insights AND tools to put them into action.
When it comes to eating for energy, optimal health, and feeling GOOD again…
There's a lot to keep up with.
"Where will I get my protein?"
"I'm eating right, but I'm still overweight.
What am I doing wrong?"
"Will I become iron-deficient
if I go plant-based?"
New information comes out every day.
"Hmmm… this article says tofu is good, but I also heard it increases estrogen."
"What about calcium? I'm concerned about osteoporosis
and weak bones."
Your family might not be 100% on board, and you might hear things like:
"Black bean burgers? Again?"
"Can't we just get take out?"
"C'mon, one bite won't hurt you."
You want to do better, but find yourself saying...
"I can't seem to get over cravings for
cookies / potato chips /
my nighttime
bowl of ice cream."
"Veggies aren't as tasty as pizza.
Can I really
learn to love them?"
"How do I find time to cook
when I'm already busy?"
Even when you know what you "should" do...
How do you stay inspired and on track?
Cooking plant-based meals and keeping it interesting?

Staying on top of the most critical health topics?

Eating in a way that supports your values and doesn't contribute to climate pollution or animal cruelty?
How do you go from simply wanting to eat healthier to actually enjoying foods that give you a long, vibrant life?
I got the results back, and the scans were fantastic.
Ocean, as I told you through my tears, I had a full-body scan done regarding my stage 4 prostate cancer diagnosis. I got the results back, and the scans were fantastic. The tumor in my stomach has shrunk to the size such that…the doctors are developing strategies to not only manage the cancer but possibly cure it. They said whatever I'm doing, to keep on doing it. The information WLC provides is saving lives. The timely, health-related information, recipes, and product information have changed the course of my situation. I can't thank you enough. I used to struggle to prepare and eat healthy foods. Since joining WHOLE Life Club, I've learned that I'm not alone in my quest for a healthy existence, and I will not be alone on my journey…it has become a lifeline and inspiration to my spirit. Please, please continue this life-changing work.
Christopher, Philadelphia, PA
I used to struggle with junk food…now I'm no longer pre-diabetic
"I used to struggle with junk foods like potato chips, pretzels, candy, and other highly processed items.
Since becoming a WHOLE Life Club member, I've learned to create snacks that appeal to my 'junk food' side but are good for my health.
And I'm experiencing the results of a healthier way of eating! I have more energy, I'm no longer pre-diabetic, and I feel really good.
I especially love the recipes. It's nice to find new ways of preparing vegetables that I already love, as well as trying recipes that help me to like new ones when they're prepared a certain way.
After joining WHOLE Life Club, many participants have adopted a whole foods, plant-centered dietary pattern. Their testimonials reflect their unique experiences. Your specific results will vary.
Stay On Track & In Love With Over 1,200 Plant-Based Recipes
Blackened Tempeh and Sweet Potato Bowl with Avocado and Kale
Slow Cooker Candied Sweet Potatoes
Pecan Crumble Pumpkin Bread
Roasted Cauliflower With Brazil Nut Pesto
Baked Pears with Oatmeal Crumble
Hearty Minestrone Butternut Soup
Pomegranate Balsamic Dressing
Walnut and Lentil Stuffed Mushrooms
Fennel Orange And Avocado Salad
Sweet and Savory Almond Butter Dressing
Broccoli Potato Casserole with Cashew Cheese
Velvety Dark Chocolate Truffles
Introducing...
WHOLE Life Club
Motivation & Inspiration for your Healthiest Life
Goodbye, bad habits.
Hello, good ones.
Goodbye, confusion.
Hello, clarity.
Goodbye, swimming upstream.
Hello, wind at your back.
WHOLE Life Club is so much more than just food
Weekly Videos From Ocean Robbins & Friends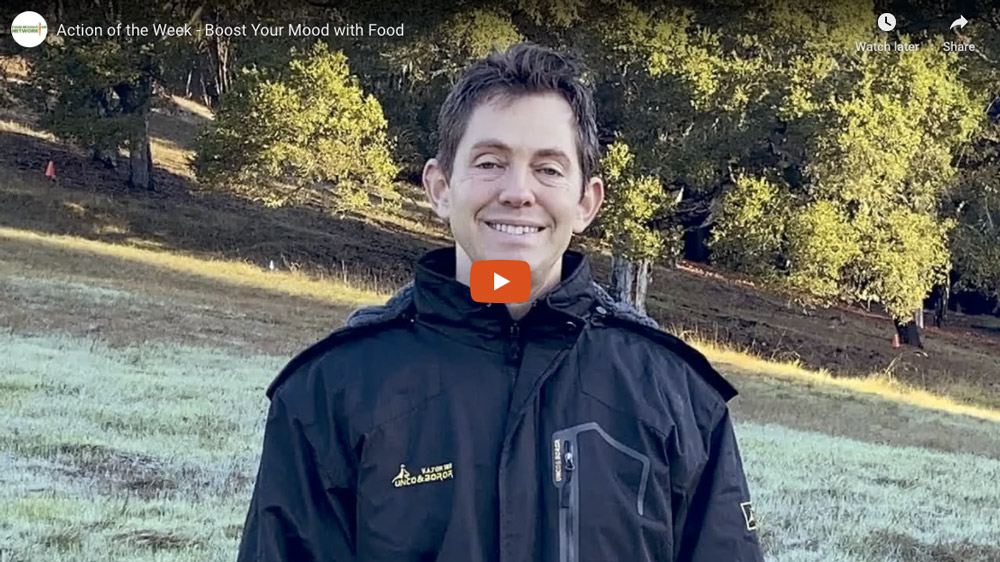 No one is born with an instruction manual on how to eat and what to do, but when you join WHOLE Life Club, you can be sure you won't miss out on the most important and life-changing information.
Weekly Guides are like getting a private message from Ocean (and friends) each week, where he shares the truth on MUST-KNOW topics that can transform your life.
You'll get weekly dispatches on topics like healthy versus unhealthy fats, adrenals, immune-supporting herbs, adaptogens, fitness myths, cancer-kicking foods, the truth about vitamins and minerals, practical tips (like learning how to say no and stay positive), and so much more.
With Ocean and friends by your side, you'll stay vibrant and motivated and keep taking action to be your best YOU.
Ocean's weekly video messages are constant encouragement that helps me stay motivated. There's so much positivity in him! I'm proud to be part of this club. We don't just better ourselves, we support each other and make a positive impact on this planet.
Genevieve, Ontario, Canada
1,200+ Plant-Based Recipes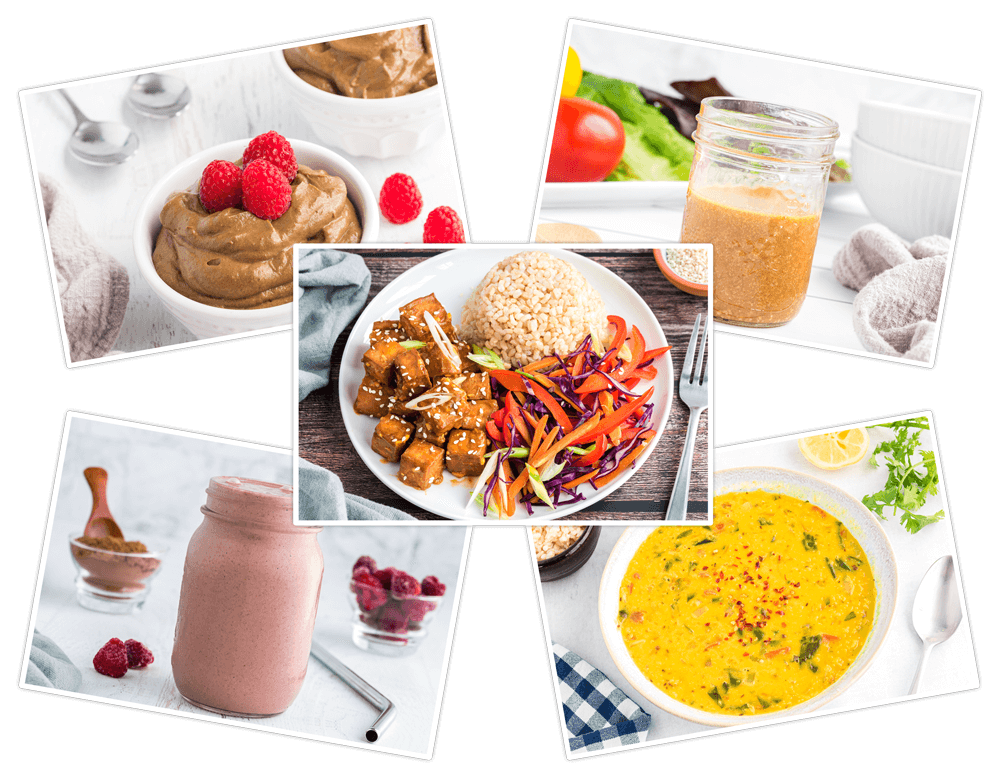 No more staying stuck in food ruts with the same meals over and over. Each week, you'll get new recipes that dovetail perfectly with Ocean's weekly guidance.
Discover superstars of nutrition with exciting recipes that showcase new ways to delight your taste buds (and your family, too)!
For example, when you learn about zinc and how it has been found to shorten colds, you'll get zinc-rich recipes like Ginger Miso Dressing, Creamy Lentil Spinach Dahl, and Chocolate Almond Mousse.
When the topic is avoiding anemia, you'll love adding more iron to your plate with recipes like Orange-Miso-Glazed Tofu and Chocolate Raspberry Smoothie.
Each recipe is a super-healthy crowd pleaser — always vegan, with gluten-free / soy-free / salt-free options — and mega-delicious, so everyone can partake.
The instant you join, you'll have the entire collection of WHOLE Life Club recipes at your fingertips.
WHOLE Life Club is where I go to get support for staying motivated in this lifestyle. The recipes are wonderful and the support is solid!
Monthly Action Hours with Leading Experts
Would you like front-row seats to the latest science from doctors who are New York Times best-selling authors and world-famous health experts?
We're talking about training from true masters in their fields with serious credentials behind their names and the success stories to back it up — not lifestyle bloggers, uncertified influencers, or marketers who are trying to sell you something.
As a WHOLE Life Club member, you'll be treated to a new monthly Action Hour every month, plus instant access to our entire library of past Action Hours with health heroes like:
Dean and Ayesha Sherzai, MDs
Julieanna Hever, MS, RD, CPT
Patrick Quillin, PhD, RD, CNS
Ritamarie Loscalzo, DC, CCN
Susan Peirce Thompson, PhD
Get the scoop on topics such as:
Longer lifespans

Eating to defeat cancer

Ending food addiction

Conquering autoimmune disease

Healthy hormones

Calming anxiety naturally

How to eat plant-based on a budget

Better sleep

How to heal your gut

Dental health

Your food and your mood

How to master diabetes with food & lifestyle

Avoiding heart disease

And more
As a member, you'll have the opportunity to ask the featured experts questions in advance so they can address them during their sessions. Plus, the instant you join the WHOLE Life Club, you'll have access to the entire library of 65+ Action Hours.
You'll get the recorded audio to download, plus handouts, implementation checklists, and articles to learn more — and if you prefer to read, you'll love getting the written transcripts.
Access to Registered Dietitians, Licensed Nutritionists, and Brilliant Health Coaches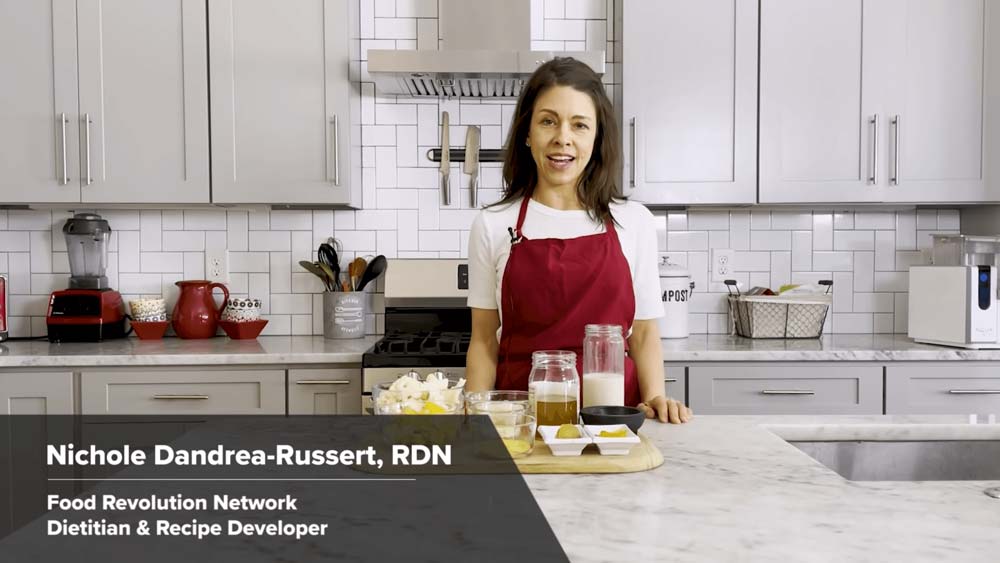 We know how difficult it can be to navigate health questions or new diagnoses on your own.
That's why our WHOLE Life Club coaches are here to hold your hand... so you get answers to your most pressing nutrition questions!
Wondering which foods are good for heart health?

Unclear about the difference between (and optimal ratio for)
omega-3s and omega-6s?

Have a loved one with a disturbing diagnosis, and wonder
what the studies say about how food can help?
If you've ever tried to find answers
on YouTube or random blogs, then you know how frustrating it can be to read ten articles that all seem to contradict each other or don't go deep enough.
If you are leery of placing your health in the hands
of the peanut gallery in Facebook groups, or can never seem to squeeze in all your questions with your doctor,
we understand.
That's why we created a way for you to get ALL your questions answered by our experienced Community Success team.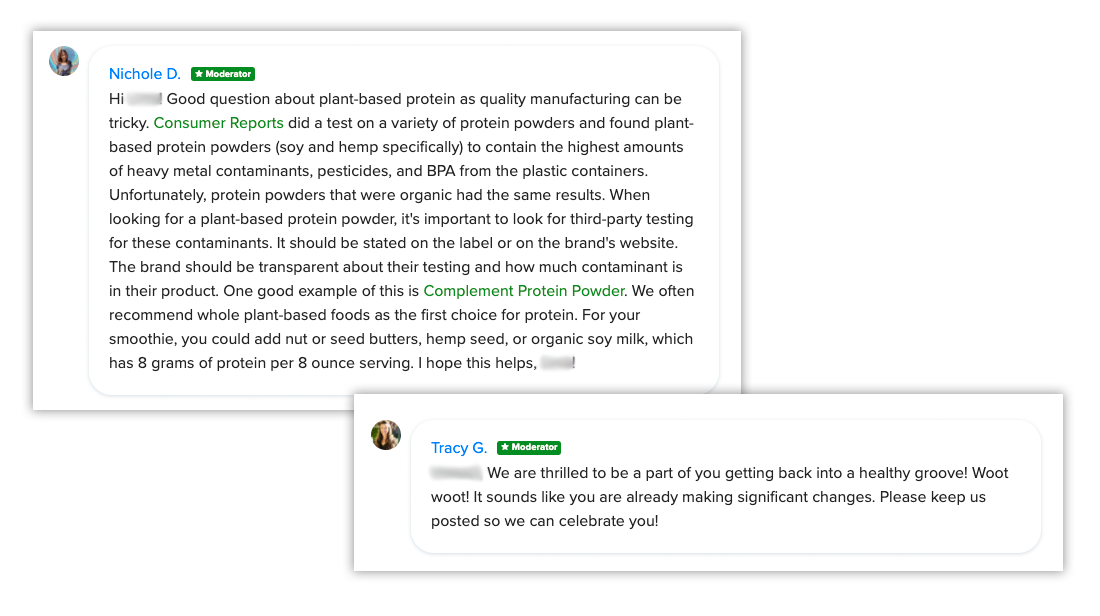 Our team includes registered dietitians, licensed nutritionists, and professional health coaches and has encountered just about everything and will provide feedback and insights based on the latest studies and research.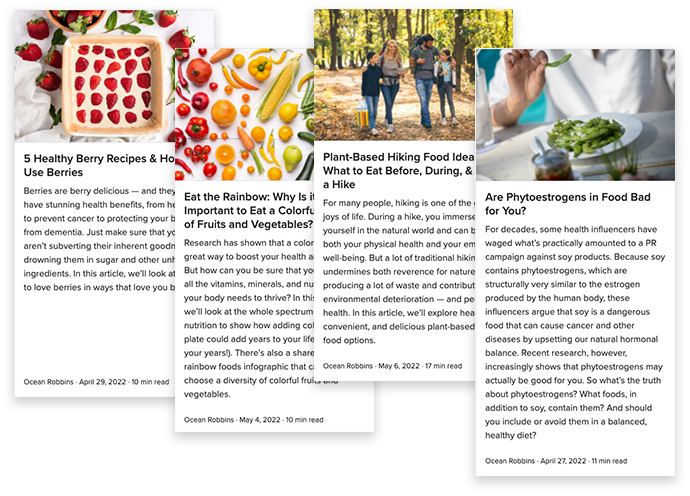 Want to dig deeper?
Our team can direct you to one of our 500+ articles so you can get the best insights on just about any health issue that pops up. This kind of help can be a true lifesaver. Our team is ready to offer you exceptional support.
Community (Uplifting Support)
No naysayers here! We know it can be tough to stick to goals if you're on your own. You deserve a safe space where you are supported by others who are on the same journey as you.
In a world where the status quo revolves around toxic food and encourages you to put up with feeling worse each year, we need to surround ourselves with others who share our values of healthy food, delicious recipes, and making a better planet for future generations.
In this warm and welcoming group, you'll find encouragement and a space to ask questions and cheer each other on as we celebrate wins — and the truth is, we celebrate often.
You simply have to experience for yourself what a difference this kind of support will make!
Before joining WHOLE Life Club, I struggled with feeling alone in my way of eating and living. Since joining WHOLE Life Club, I've realized so many others are on the same wavelength, and I treasure my newfound community.
Cutting-Edge Science
We are fortunate to live in the most scientifically advanced period in the history of the world.
However, there are too many poorly conducted scientific studies cited in articles that are nothing more than hyped-up marketing…making it nearly impossible to find accurate information on the topics you care about. This is wrong. You deserve the truth.
Getting the right information makes all the difference when it comes to topics like cancer, autoimmune disorders, heart disease, thyroid health, weight and metabolism, pain, Alzheimer's, and more. That's why we explain the science in language you can understand and provide links to credible research so you can be sure it's grounded in solid evidence.
New discoveries are made daily — and you can count on us to keep you up-to-date with breaking news from reputable sources.
Here are some recent WHOLE Life Club topics
You'll get them all instantly — the
moment you join!
Foods to Fight Cancer and Thrive in Every Cell — see how it's possible to prevent and even take steps that help beat cancer.

Preventing Dementia — employ the new breakthroughs in nutrition and lifestyle to keep your brain sharp and avoid devasting brain diseases.

Probiotics and Gut Health — this is one of the newest and most promising health discoveries of our time, and we share all the breaking updates as they roll in.

Hidden Dangers — pesticides, glyphosate, food safety, GMOs, toxins: what you need to know to protect yourself and your family.

Stopping Heart Disease — learn how to avoid the #1 cause of death by switching to heart-healthy superfoods and adopting positive lifestyle routines you'll love.

Detoxing and Cleansing — use food to heal your body naturally.
Reversing Chronic Inflammation — implement scientifically proven ways to reduce chronic inflammation and help your body to heal.

Weight Loss and Food Freedom — discover how to rewire your brain to eat what's good for you.

Outdoor and Indoor Gardening — grow your own fresh fruits, veggies, and herbs for the most delicious flavor and maximum nutrient levels (even in small spaces).

Creating Joy and Dealing With Stress — get truly effective mind-body techniques so you can become the happiest version of yourself.

Mythbusting — no longer wonder whether you're doing the right thing when it comes to soy, carbs, protein, fats, and other hotly debated topics.

Mental Health — find out what landmark studies show us about how neuroscience and nutrition can help create balance, resilience, and less suffering.
And there will be new topics for you every week!
What do members have to say?
After joining WHOLE Life Club, many participants have adopted a whole foods, plant-centered dietary pattern.
Their testimonials reflect their unique experiences.
Your specific results will vary.
I struggled with not knowing what was healthy and what wasn't. Since joining WHOLE Life Club, I've learned that eating healthy foods can heal the body and prevent disease.
I'm so glad I have friends like John, Ocean, and this group. This club is like a family to me.
Alexa P., British Columbia, Canada
I struggled with understanding what was the healthiest diet to help heal ulcerative colitis, which I had been struggling with for 30 years. Since adopting a whole foods, plant-powered diet with the support of WLC, my energy has increased, my gut has healed, and my aches and pains have disappeared. I no longer have any doubts about what to eat and not to eat to keep myself healthy.
It's such a joy to share delicious plant-based food with family and friends and see their enjoyment, too!
Nerina, Sydney, Australia
I've effortlessly lost 30 pounds in six months, without counting, weighing, or measuring anything.
At age 62, I decided that my health was more important than my addiction to old habits. WHOLE Life Club keeps me motivated to crowd out animal products and processed foods with whole plant foods.
Thank you, WHOLE Life Club!
No overwhelm.
No confusion.
No boredom in the kitchen.
Just you making strides, one day at a time. Deliciously!
What You Won't Find In WHOLE Life Club
A book you buy but don't read.
A good book is wonderful, but it can take ten hours — maybe more to read it cover to cover. Who has time to spend weeks learning everything there is to know about a single health topic, even if it's one that will majorly impact your life?
That's why you'll get short, compact lessons each week, with links for further reading so you can do as many deep dives as you wish.
Then, during Action Hours, you'll get the "greatest hits" from world-class experts so you can be sure you're not missing vital insights that could literally change your life overnight.
Don't want to go down internet rabbit holes or wait for the next available appointment? We don't, either!
That's why the WHOLE Life Club moderated forum is the place to go when you need scientifically-backed information that's shown to work in long-running, peer-reviewed studies.
Our team of health coaches is standing by to help you troubleshoot your unique health challenges, answer nutrition questions, debunk fads, and point you to recipes for reducing stress, mood support, disease prevention, and any other important topic that's on your mind.
Not everyone loves Facebook.
So, we created a warm space where you can focus on what you want, when you want (without having your eyeballs sold to advertisers).
Connect with WHOLE Life Club registered dietitians and certified health coaches, and new friends who are on the same path as you and share your enthusiasm.
Conversations are sorted by category, making it easy to ask your questions and find answers.
Have you ever tried to make a New Year's resolution without someone else who's committed to the same journey? If you try really hard, you might make it a while before you slip back to your old ways, but it can be hard to make it stick on your own.
The WHOLE Life Club community is your life raft to the next level of you. Post whenever you need a cheerleader or need help brainstorming ideas. Find accountability partners and stay motivated. THIS is how you create healthy habits that you enjoy and adopt for life.
Plus, you'll be able to bring your loved ones along for the ride as you enjoy new recipes, watch the Action Hours together, and inspire them to take great care of themselves, too.
Another night of uninspired dinners.
There's so much more to eating healthy than frozen bean burritos and boring salads.
You'll discover mouthwatering recipes you can whip up quickly and inexpensively, including healthy, veggie-forward versions of comfort classics, as well as new dishes that may become your go-to favorites.
Go ahead, tantalize your taste buds — even the pickiest eater will want these recipes on heavy rotation!
A drill sergeant telling you what you're "supposed" to do.
When you have people cheering you on, as well as health tips and health hacks spoonfed to you, it all adds up!
You'll be able to do a little bit better every day and truly enjoy the process.
The entire focus of WHOLE Life Club is to help open your eyes, get results, and have fun, so you keep coming back.
You'll be hearing from Ocean regularly, too, with videos and action tips and potent resources — and trust us, these are emails you'll actually want to read!
For me, the WHOLE Life Club is to health like church is to faith.
John and Ocean Robbins base their work on science, and I would trust them with my life.
This is like my bible for living the healthiest life I can. Amen, and thank you from my whole heart.
Motivation To Live Your Healthiest Life
WHOLE Life Club doesn't just give you information…
It gives you power.
One meal,
One discovery,
One conversation,
One new friend…
At a time.
A Few Words About Social Pressure
Ever given in to peer pressure? It's quite common.
It's harder to have a healthy lifestyle when your friends and family aren't fully on board.
This stress becomes even more powerful when you have an underlying illness or condition that no one else seems to understand.
When people around you are bonding over unhealthy foods, you may feel sad, disconnected, or disappointed.
They might also express discomfort that you're not joining in.
Worst of all, you might compromise your food values to fit in or for fear of hurting someone's feelings — and ultimately, you might regret it.
Unless you have ample support, your social life can pull you in unhealthy directions.
The Solution: A Welcoming, Supportive Community
The instant you join, you'll gain access to a moderated, thoughtful community of health-minded people who are ready to help you overcome whatever challenges you may face — now or in the future.
This is why Ocean offers ample tips to help you navigate any social situation with ease.
This is your community, ready to cheer you on and celebrate your victories and milestones...
And to motivate you from "I know I should..." to "I'm doing it!"
Why Join WHOLE Life Club?
Save money.
You'll be inspired to cook more meals at home. With just one less takeout meal a month, your membership will pay for itself. With fewer trips to the doctor and pharmacy aisle in your future, you could save thousands.
Save time.
Learn the must-know food techniques you were never taught to save time while cooking.
Plus, all recipes can be adapted for gluten-, sugar-, oil-, and/or salt-free diets, so you won't waste time hunting for meals you can eat.
Save your health.
Don't miss out on critical health topics that every single person needs to understand.
WHOLE Life Club is like a total health encyclopedia, giving you the resources you need when you need them.
Save yourself hassle.
Whether you're a seasoned chef or a beginner, you'll get tips and tricks to help you make cooking and menu planning fun.
Save the planet.
Putting more veggies on your plate is one of the best things you can do to save soil and water, reduce pesticides, fight climate change, and preserve the beautiful Earth we call home.
Save animals from harm.
Feel good knowing that your food choices are as good for you as they are for other creatures, big and small. We're all in this together!